Carmel River School News ("Friday Email")
Posted by Jay Marden on 3/8/2019 4:00:00 PM
Good Afternoon River Parents,
In this Friday email, we'll cover:
Parent/Teacher Conference Week
Helicopter Bunny
Student writing
Computer Programming
Mother/Son/Family Carnival
PTA Meeting
Yearbooks
St. Patrick's Day
Parent/Teacher Conference Week next week and Read-a-thon!
Next week, March 11-15, is Parent/Teacher Conference Week, and students will be dismissed at 12:30 p.m. It is also Read-a-thon, Week and students are encouraged to read, read and read with all that extra time they are at home! Read-a-thon packets were sent home today and accompanied by a book purchased for each student by the PTA - thank you PTA!
The challenge of letting go...
As parents, all of us struggle with processing the degree to which we should let our children experience and work through obstacles on their own as they grow up. Raising three boys, who are now in their twenties, this continues to be a challenge that I contend with as I resist the temptation to solve their problems. Fortunately, I feel I have managed to strike a healthy balance in this regard as I have reflected on a quote by speaker unknown: "We can hurt a little watching our children learn life's lessons now, or hurt a lot as we watch them grow up to be individuals unable to care for themselves." I believe this quote captures that there is great value in letting our children navigate life's obstacles without us intervening to remove each bump on a road they must travel. This dynamic is also something that I have more than periodically addressed in my career as I've attempted to assist many parents with the above advice. The greatest biographies and autobiographies have one common theme - overcoming obstacles. With that in mind, I'd like to share the story of the "helicopter bunny," which I hope you'll find valuable in prompting your own reflection on this topic:
https://www.mcsweeneys.net/articles/the-helicopter-bunny
A pony helps with kindergarten writing...
The Carmel Writing Program entails three different genres: narrative, opinion and informational writing. To help facilitate informational writing at the kindergarten grade level, a pony visited Mrs. Perkins' class below as students learned all about this beautiful animal as they captured in writing details they learned about this adorable creature.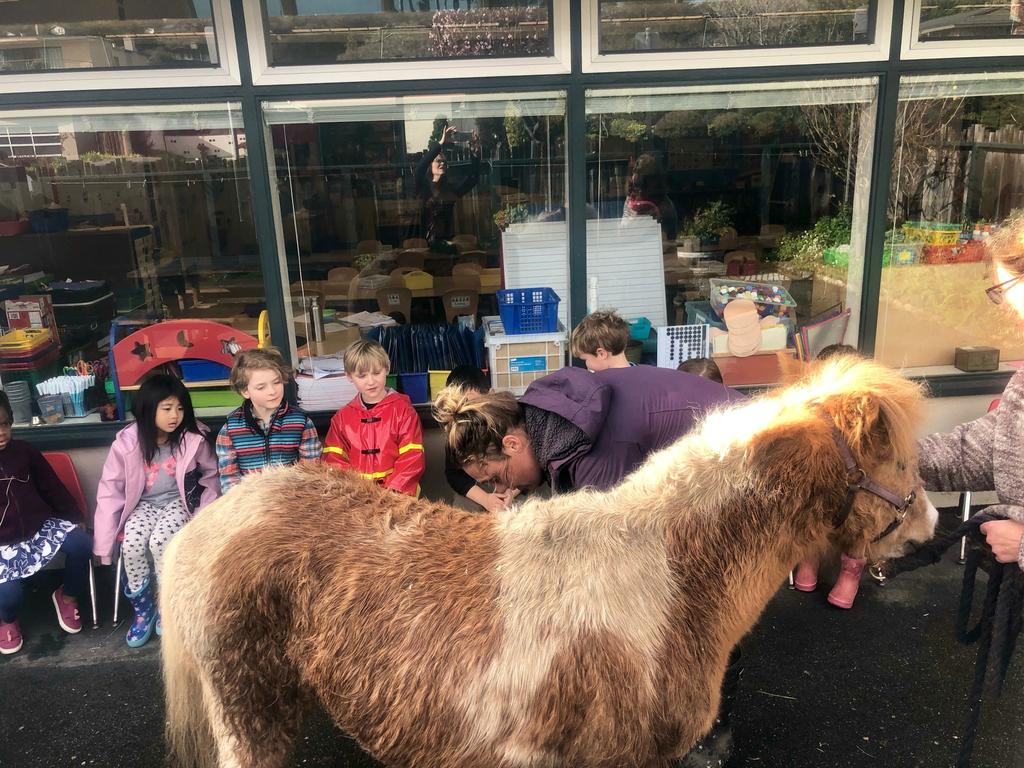 Technology and Coding - budding engineers and computer programmers
One of the tech. goals we have for our students includes computer programming as students manipulate objects through coding. Below, students in third grade learn how to interface their laptops and windmills they assembled to create wind energy. Students were unaware I took the photograph given how engrossed they were in the activity!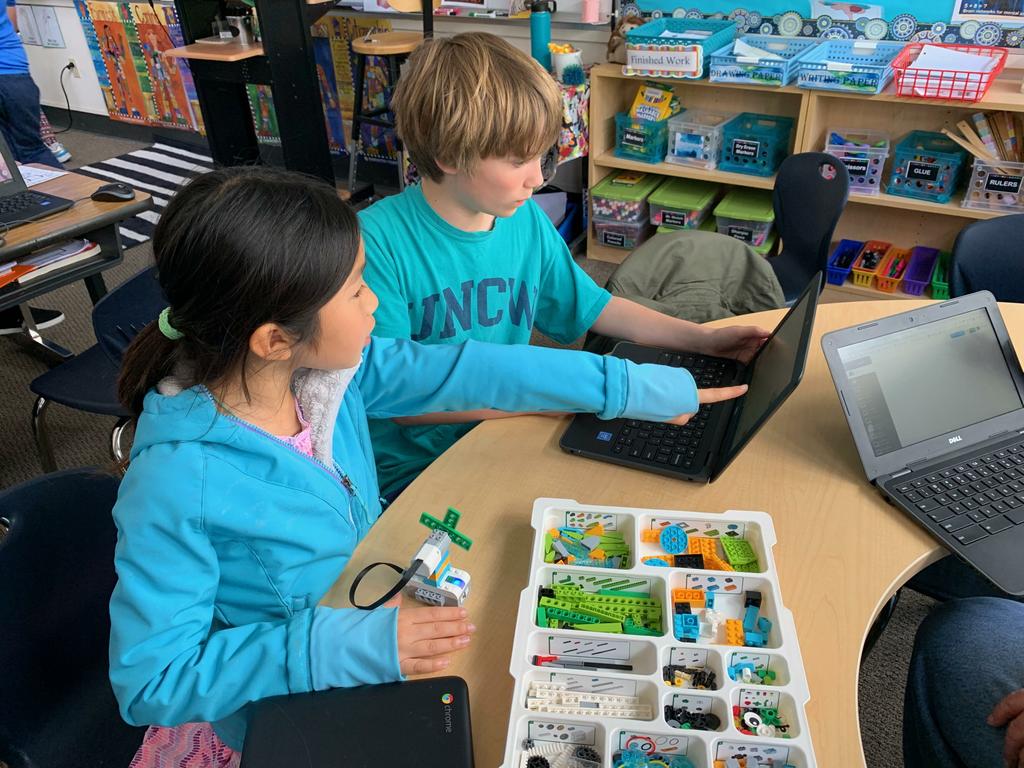 Mother-Son Family Carnival, Friday, March 29th from 6:00-8:00
All River mothers are invited to join us for the annual Mother-Son-Family Carnival, which will have a Hawaiian theme! Dessert will be served and lots of mother-son carnival games will be on tap: magic show, face painting, and Lego competition. Many other fun games and surprises will be on hand too. The price is $15.00 per mom/son-s. Please purchase your tickets in the office by March 27th. Tickets will be sold at the door, but will be $20 per mom/son-s. If a mother is not able to attend, a young man may bring a special person (e.g. aunt, family friend, etc.) in his life to the event. Please join us; we wish to celebrate our young men and the special women in their lives.
A sign up genius is going to be sent to your inbox requesting volunteers to sign up to help set-up, clean-up and run the event; please sign up and help with this awesome event.
If you have a local business and would like to donate for the raffle please contact majospencer@yahoo.com.
Thank you,
Majo Spencer, coordinator
PTA Meeting
Yesterday, CUSD Director of Curriculum and Instruction, Dr. Suzie DePrez, attended our River School PTA meeting to present to parents the "California Dashboard," which is the state's new school rating system. She reviewed CUSD and River School data, which reveals that we are doing exceptionally well in reading and math, but have some work to do around attendance. Granted, the latter is a hard nut to crack. We certainly don't want students coming to school when they are sick, but we also know that there's belt tightening we can do with extended vacations and things of that nature that are technically "unexcused" by state standards. The state measures school growth based on the previous year's data, and despite the fact that we have healthy attendance rates, we had a dip from the previous year that we'll strive to address. Please know it won't come in the form of asking you to send your sick child to school!
Yearbook sales close April 7
CRS y
earbook
sales are currently open. You have two easy ways to place your order:
YearbookOrderCenter.com
or by calling Herff Jones 866.237.3096. Please reference our school order #30388 when placing your order. Sales will close April 7
th
, 2019.
Saint Patrick's Day - celebrate next Friday!
While St. Patrick's Day is Sunday, March 17, we invite our students to dress up in all things Irish and green next Friday, March 15.
River Rec. packets available next week
The registration packets for T Rex, River Rec, and TK before and after school care will be ready for pickup March 11th. Packets can be picked up at Carmelo, T Rex or River Rec and MUST be returned to Carmelo. All programs are first come, first serve basis and every family has to register every year. There is a $50.00 Registration fee due with the packet.
I'll leave you with a beautiful video clip from the CUSD Choral Festival last night at Sunset Center. Take a moment to view the clip and hear how impressive these elementary students are!
Important dates:
March 11-15, Parent/Teacher Conference Week, 12:30 p.m. dismissal
March 11-15, Read-a-thon Week
March 15, Spirit Day - Saint Patrick's Day - wear green!
March 26, CUSD Band Festival, 7:00 p.m., Sunset Center
March 29, Mother/Son/Family Carnival, 6:00 p.m.
April 1-5, Turn Off Tech. Week part II
April 2, First Grade Musical, 6:30 p.m.
April 4, Miss Becca Show, 6:00 p.m.
April 5, Miss Becca Show, 9:00 a.m.
April 10, CUSD Orchestra Festival, 7:00 p.m.
April 15-19, Spring Break
Enjoy your weekend,
Jay Marden
Carmel River School Principal